Animal Carnival as part of the festival Tanec Praha - More info
Papirna Plzen
Tursday June 13 at 900; 1100 and 1600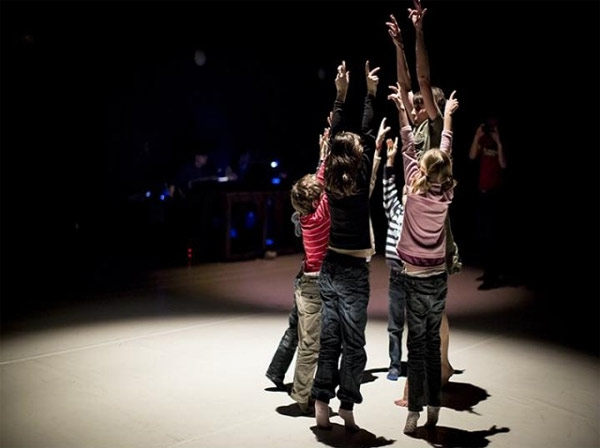 Next performance from the series of improvised evenings Let's meet Nr: 19
this time in a unique setting of Automatic Mills in Pardubice, designed by Jozef Gočár
Friday June 14. 2013 at 20:00

music: Zdeňek Závodný, Zbyňek Rohlík, Petr Vrba, Jára Trnovski, Ken Ganfield, Pavel Bakič
dance: Kateřina Dietzová, Raquel Gualtero, Tereza Lenerová Hradílková, Miroslav Kochánek,
Sabine Molenaar, Zdenka Brungot Svíteková
light design: Rasťo Juhás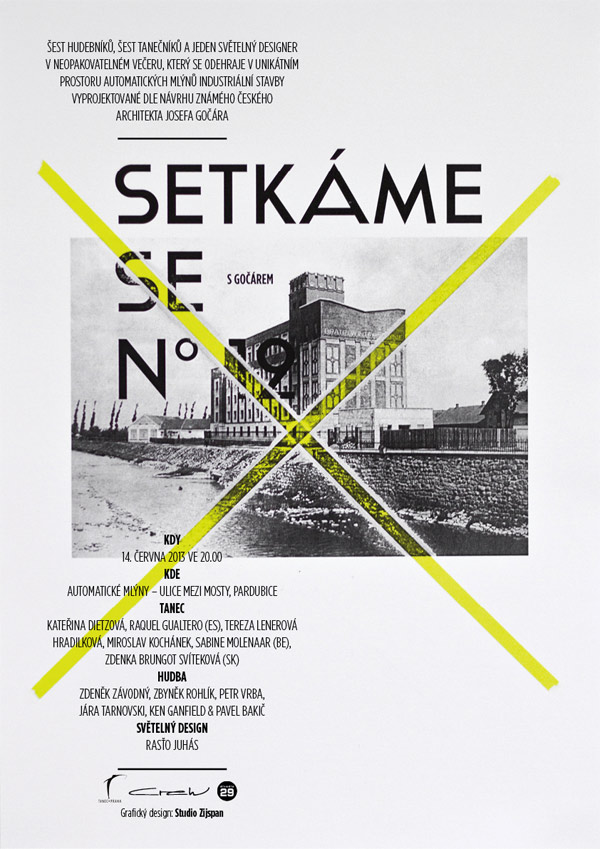 Improvsation group /na:u/ and guests:
One space - a Room for Change
June 7th, 20.00h as part of ImproEvents Prague 2013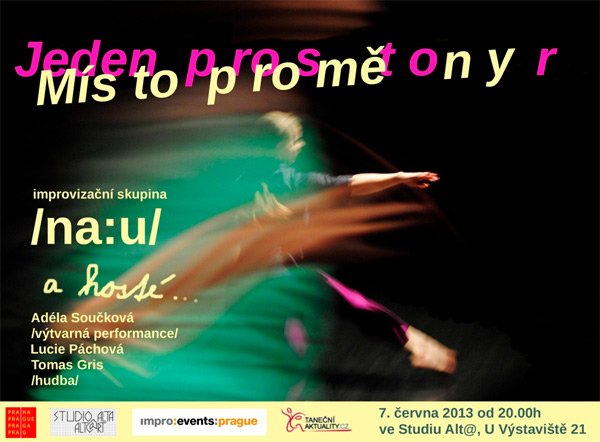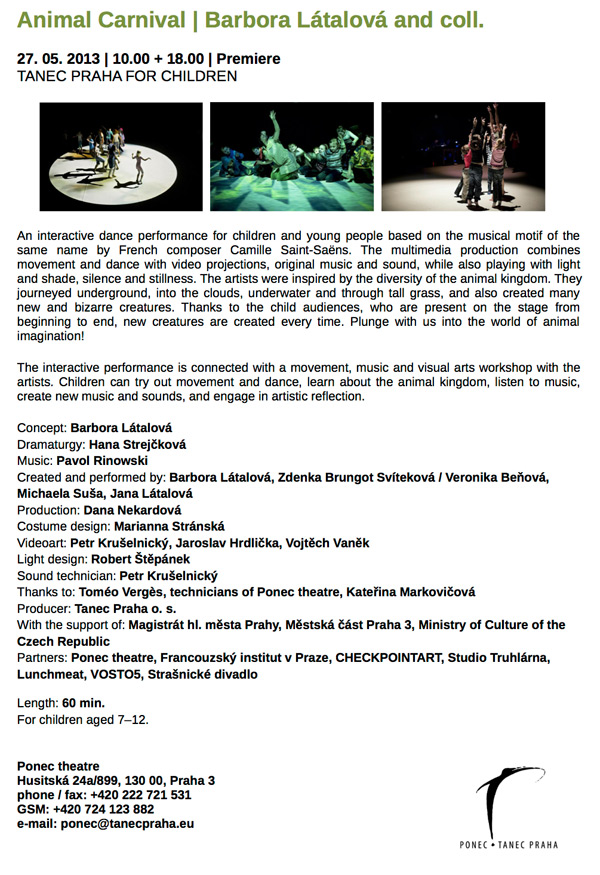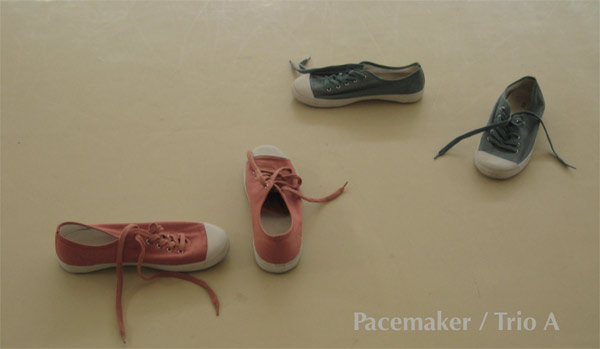 Pacemaker/ Trio A
April 24 2013 at 20h; Dům umění, Brno (Cz)
as part of event Resonances of post-modern organised by se-s-ta, Centre for Choreographic
development. Info


and

May 2 2013 at 20h, A4 Space for Contemporary Culture, Bratislava (Sk)

Trio A
choreography: Yvonne Rainer
under the custody of Pat Catterson
performed by: Zdenka Brungot Svíteková and Anna Sedlačková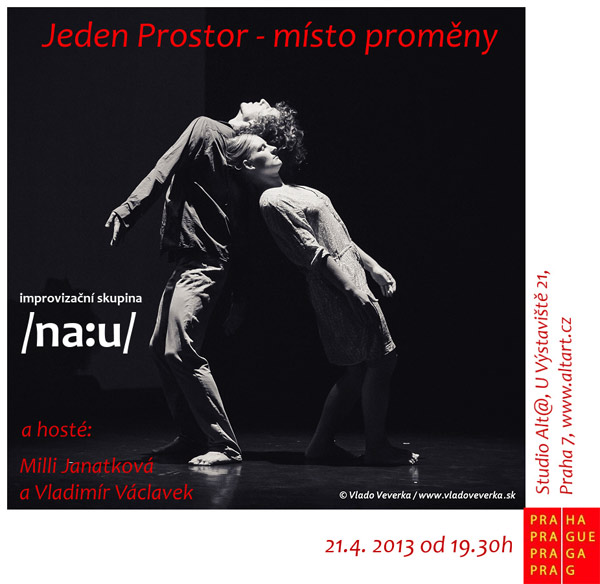 One space - a room for change
Improgroup /na:u/ and guests
April 21 2013 at 19.30; studio Alt@ Prague (Cz)
www.studioalta.cz
/na:u/: Markéta Vacková, Veronika Beňová, Zdenka Brungot Svíteková, Radim Klásek
and guests: Jana Novorytová (dance), Jan Puc (movement and voice) , Milli Janatková (music),
Vladimír Václavek (music).
www.skupinau.cz
www.millijanatkova.com
www.vaclavek.eu/vladimir



SE.S.TA - CENTRUM CHOREOGRAFICKÉHO ROZVOJE A NÁRODNÍ GALERIE V PRAZE
VÁS SRDEČNĚ ZVOU DO VELETRŽNÍHO PALÁCE NA

VÍKENDOVOU POHYBOVOU DÍLNU S MARTHOU MOORE
"POHYB JAKO PROSTŘEDEK PRO VNÍMÁNÍ VÝTVARNÉHO UMĚNÍ"
16.—17. března 2013 vždy od 11 do 14 hodin
A PREZENTACI EVENTU "POSTMODERN DANCE DNES"
17. března 2013 od 16.30 hodin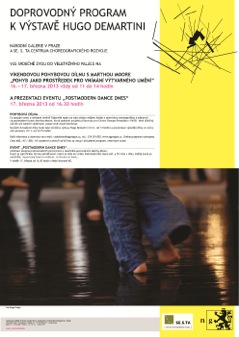 POHYBOVÁ DÍLNA
Co spojuje tanec a výtvarné umění? Odpovědi najen na tuto otázku můžete hledat s americkou
choreografkou a odbornicí na postmoderní tanec Marthou Moore, která podobné projekty připravuje
pro Centre Georges Pompidou v Paříži. Není důležitý váš věk ani taneční zkušenosti, pouze chuť experimentovat.
Součástí dvoudenní dílny bude také návštěva výstavy Hugo Demartini (16.3. od 14 hodin) a prezentace
výsledků dílny ve veřejném prostoru (17.3. od 14.15 hodin)

Další informace a rezervace na e-mail: vzdelavani@ngprague.cz, tel.: 224 301 003, www.ngprague.cz. Změna programu vyhrazena.
Cena 600,- Kč / 500,- Kč (studenti a senioři od 65 let) za vstup i dvoudenní program, rezervace nutná

EVENT "POSTMODERN DANCE DNES"
představí skupina profesionálních performerů a tanečníků pod vedením Marthy Moore.
Event je specifickou formou představení, která se váže ke vzniku Postmoderního tance (60. a 70. léta v USA).
Event je pro tanec tímtéž čím je instalace pro výtvarné umění.
V neděli 17. března od 16.30 hodin v Malé dvoraně NG.

Lektorské oddělení Sbírky moderního a současného umění Národní galerie v Praze
Veletržní palác, Dukelských hrdinů 47, 170 00 PRAHA 7 - Holešovice
Metro C — Vltavská, TRAM č. 12, 14, 17 — Veletržní
Více info v přiloženém letáku.
www.se-s-ta.cz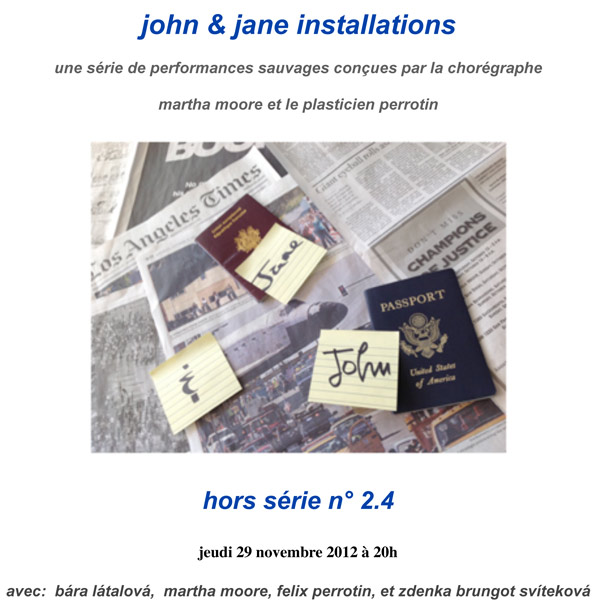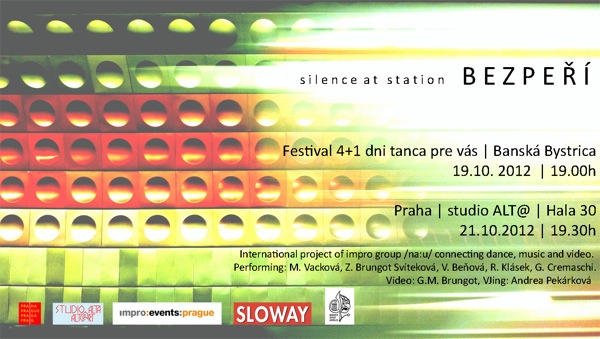 19. října 2012 / 19 October 2012 - 19.00
Banská Bystrica: Festival 4+1dni tanca pre vás www.studiotanca.sk
+
21. října 2012 / 21 October 2012 - 19:30
Praha: Studio Alt@ - Hala 30, www.altart.cz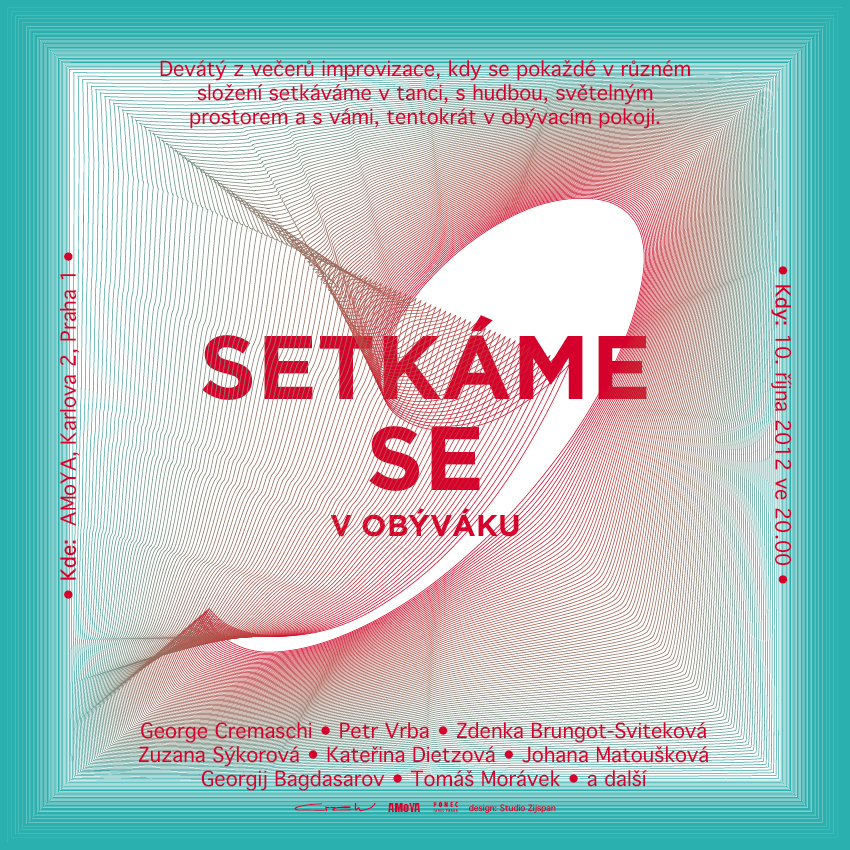 CreW collective vás srdečně zve na další z improvizačních večerů projektu Setkáme se...
ve středu 10.října od 20.00 v prostoru musea AMoYA - Karlova 2, Praha 1. Vstup je volný.

Tentokrát bude představení uvedeno v rámci projektu OBÝVÁK, který AMoYA pravidelně pořádá
– setkáme se ve čtyřech duetech ve čtyřech různých pokojích.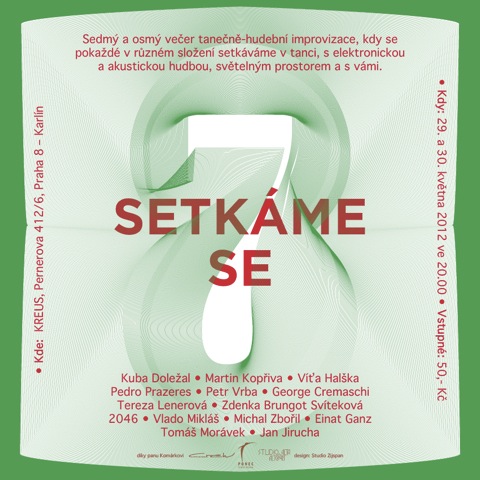 Facebook link!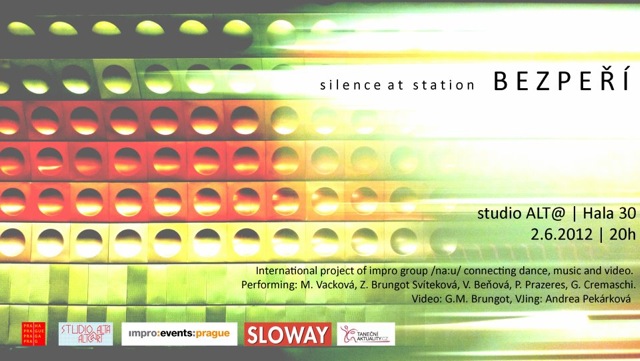 Silence at station BEZPEŘÍ
2nd June 2012 (premiere)
20:00 Studio Alt@ - Hala 30

International project of impro group /na:u/ connecting dance, music and video will be part of festival
Impro Events Prague 2012.
Bezpeří (Withoutfeathers) is a fictious underground station, a bustling place during the day, lonely and
empty in the evening. A place of noise and silence. A public space witnessing privacy, a place of casual
encounters as well as sociable conversations.The key to mutual communication is the physical language
of the body with all its possibilities, vulnerability and humour.

Performing: M. Vacková, Z. Brungot Svíteková,
V. Beňová, P. Prazeres, G. Cremaschi.
Video: G.M. Brungot
VJing: Andrea Pekárková
Music: George Cremaschi
Costumes: Hà Thanh Nguyen





Dear friends!
You are invited for another performance of improvised dance and music, music and dance...
Meeting of impro-group /na:u/ - four dancers and one musician, and
group IQ+1 - five improvising musicians and one dancer of body weather.
April 2nd. 2012, from 19:30
www.altart.cz
Facebook Event

/na:u/
M. Vacková, V. Beňová, Z. Brungot Svíteková, P. Prazeres, G. Cremaschi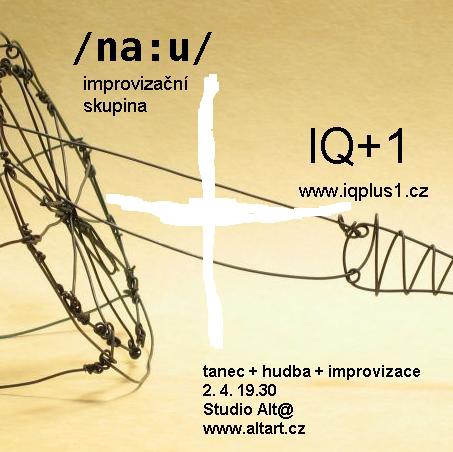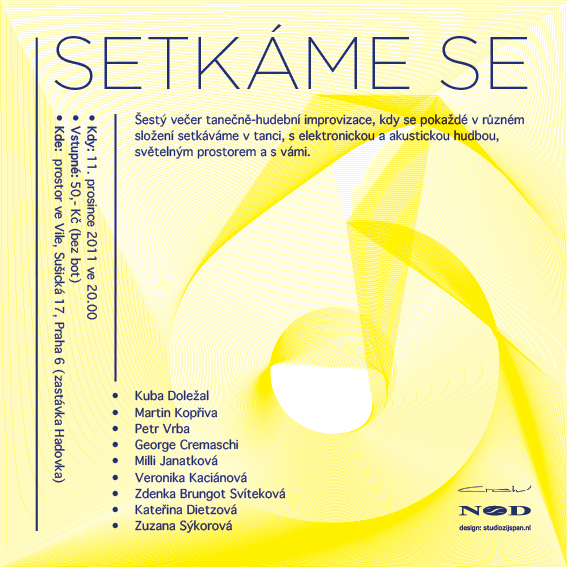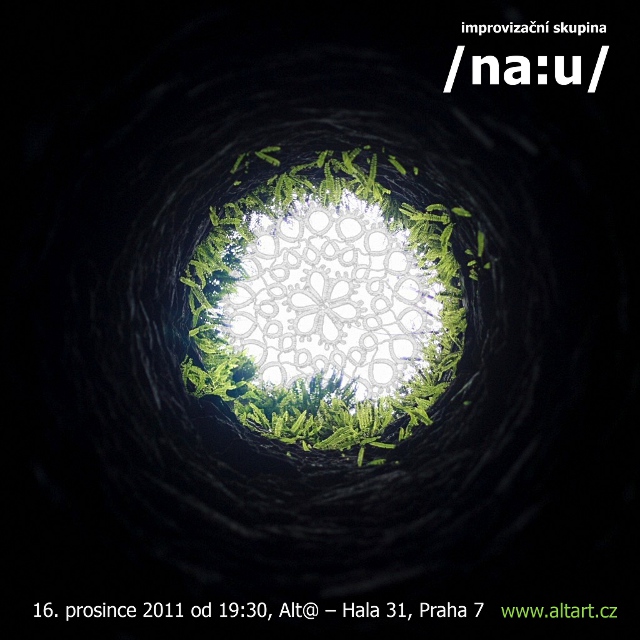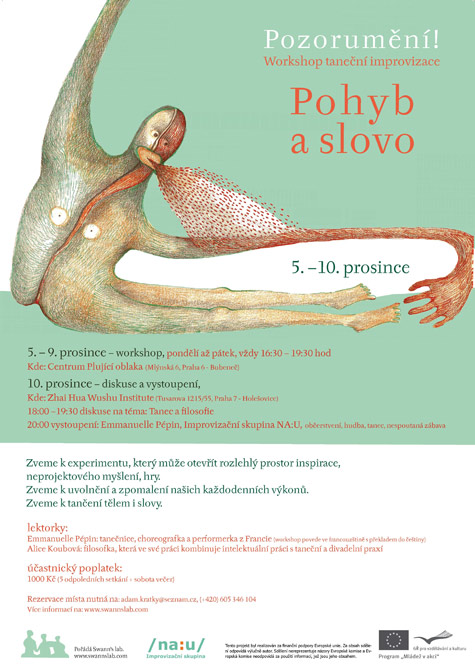 Intensity of the (Invisible)
a silent feature about being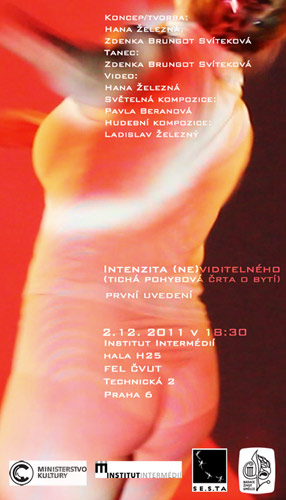 Nu Dance Fest
6th International festival for contemporary dance and movement theatre
www.sucasnytanec.sk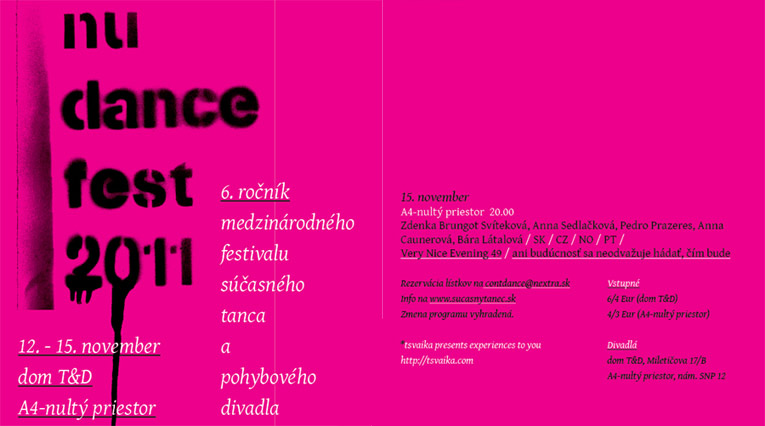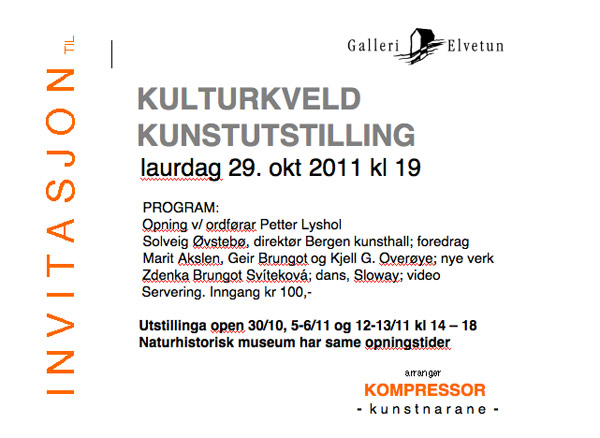 Improvised Performance

Thursday 3rd March 2011 7.30 p.m.
Studio Alt@ - Hala 30, U Výstaviště 21, Praha 7.
www.altart.cz

Impro group NAU puts its mind into improvised performance as a final dance-theatre stage form. Each performance is an instant composition which is shaped in front of the eyes of the audience. There is no prepared theme or structure. The performance results from the present moment; our inspiration is the shared space and we communicate with our body, movement and voice. Improvisation is a great adventure without limitations where we tranform our experiences as well as spontaneous impulses. Each time we compose a new "story" and we often get surprised, too.

Impro group NAU is:
Markéta Vacková, Veronika Beňová, Tereza Kodíčková, Petr Hudeček together with our lovely guest:
Zdenka Brungot Svíteková

and this time for the first time we will improvise together with flute player Lucia Pintérová.











Fg = G x [(m1 x m2):r2]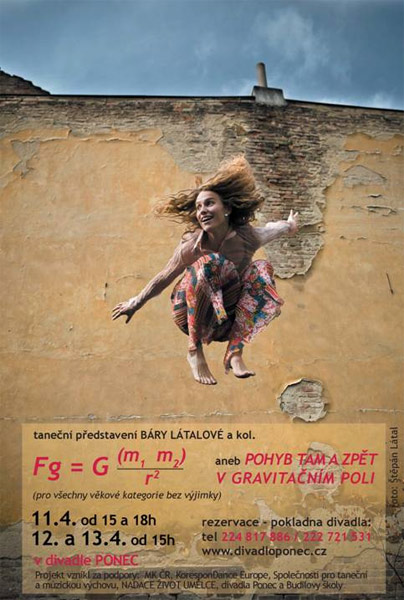 (english version below)

tančí: Bára Látalová, Zdenka Brungot Svíteková
hraje: David Hlaváč
svítí: Jan Beneš
Rodinné taneční představení inspirované fyzikálními zákony. Inscenace, která je
pojmenována podle známého Newtonova vzorce popisujícího gravitační zákon.
…nedávno jsem otevřela svůj starý sešit fyziky a v něm stálo: "Cívka je cívka, to se
nedá nic dělat, bez cívek nehraje ani rádio". Více o představení zde
Rezervace a info – pokladna divadla Ponec:
tel 224 817 886 (9 – 17h), 222 721 531 (17-20h) www.divadloponec.cz

---------------------------------------------------------------------------------------------------------

Dance performance by Bára Latalová & co:
Fg = G x [(m1 x m2):r2]
or Movement back and forth in the gravitational field (except exceptions)

11/ 4 at 3pm and 6pm,
12 and 13/4 at 3pm
in Ponec Theatre

Dance: Bára Látalová, Zdenka Brungot Svíteková
Music: David Hlaváč
Light: Jan Beneš

Family dance performance inspired by the laws of physics. The piece is named after
Newton's universally known formula describing the law of gravitation.
… I recently opened my old Physics exercise book and read: "An induction coil is an
induction coil and there's nothing that can be done about it. Not even the radio would
work, if it wasn't for induction coils."
More about the performance here

For reservations and more information – Ponec Theatre:
tel.: 224 817 886 (9am - 5pm), 222 721 531 (5pm - 8pm); www.divadloponec.cz



Solo Restar at
NU DANCE FEST
Bratislava 2008



"Table culture", project by Jan Komarek;
... motion claustrophobia for 6+1 dancer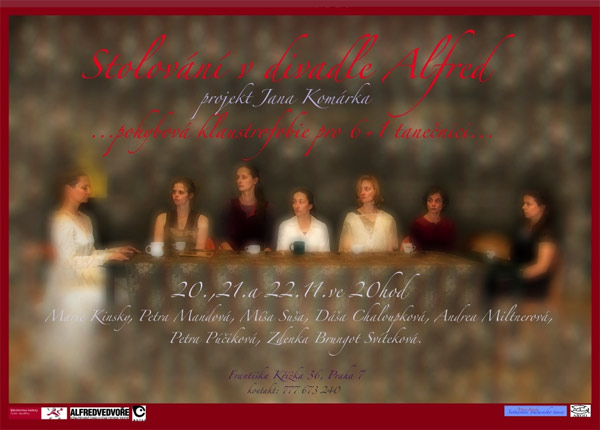 NEW ZDENKA BRUNGOT SVITEKOVA / SLOWAY WEBSITE OPENED MARCH 5th 2008!


Much more to be added soon!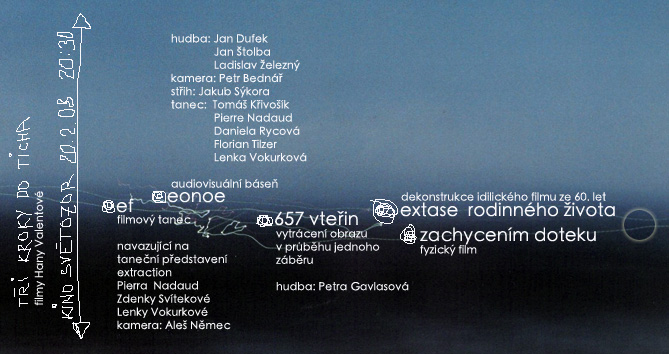 This is the invitation for the premiere of the film based on the performance EXTRACTION.
The film title is "ef", it premiered at Svetozor cinema in Prague on February 20, 2008.
Film created thanx to the support of o.s Tanec Praha / Divadlo Ponec, FAMU, Studio Dance Perfect