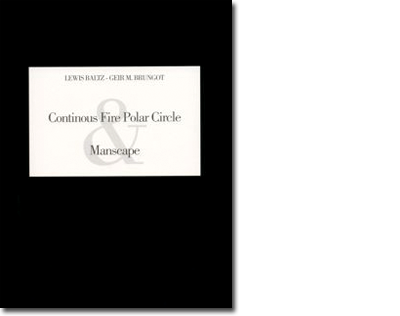 «Continous Fire Polar Circle & Manscape»
Two-mans shows are not the most frequently used exhibition form, neither in the field of photography, nor within other areas of art. There may be a number of reasons for this, the most important probably being that few artists are abel to find a colleague so much in the line with their own ideas and artistic expression, that another artist with his art is abel to add other dimensions to, or create an interplay with his own art.
When this happens that two artists choose to exhibit their art together, it is usually artists who have known each other for a long time, and who through dialogue over a long time is familiar with each others ideas and art. Now it may be said that Lewis Baltz and Geir M. Brungot have known each other for some time, as they met for the first time almost ten years ago. The occasion was a workshop led by Lewis Baltz, with Geir M. Brungot as one of the participants. The place was the little fishing village Kalle in Lofoten Islands.
Lewis Baltz was already a well known artist, both in his home country USA and in Europe. He'd had exhibitions in several of the important galleries and institutions, had been bought by the right places, and had several book-projects behind him. Geir M. Brungot had barely left the ranks of the camera-clubs, and was on the doorstep to find his own expression.
Time and place must have been the right for both artists. Lofoten is concidered to be one of the most beautiful regions in Norway, and it would be only natural if some of that beautiful scenery played a part in the pictures made on this occasion. What we did get was observations and statements on how man uses and abuses nature, exemplified by pictures from the municipal garbage dump.
We can see Lewis Baltz's pictures as a continuation of his former projects (e.g. Park City). A cool, distant registration without any passion, of mans restructure of nature. His pictures are razor-sharpe, and dominated by the middlezones of the gray tone scala. Geir M. Brungots pictures have a slightly diffrent approach. Having recently left the rather strict and sentimental estethics of the camera-clubs, we can see his pictures present themselves with a stricter and more critical view. He too registrates how man manipulates nature, but here the distance is shorter, and we sense the passion right under the surface. These two photographers worked shoulder to shoulder, for a few hectic days and nights, but it is obvious that the environments registred are seen and interpreted through two very diffrent temperaments.
That this meeting was a success , according to both time, place and personality, is shown by the fact that both artists made their own one-man shows from the material. Lewis Baltz's exhibition «Continous Fire Polar Circle» has been shown at several galleries and institutions throughout Europe, as Geir M. Brungot's «Manscape» was shown in galleries and institutions in Norway. To make this exhibition, pictures have been selected from these two one-man shows.
Ten years have passed, it's full circle. What we are left is this strange thing that happens on rare occasions. Two artists, very diffrent indeed when it comes to age, background, artistic merit and temperament, meet, and this meeting creates a combined energy, or synergy, that two plus two is no longer four, but five.
Oslo 2.2.1995
Olav Løkke